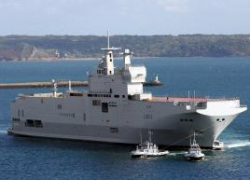 Contract for building of third and fourth Mistral-class landing ships will be signed in 2012, said Roman Trotsenko, the president of United Shipbuilding Corporation (USC).
« The arms procurement order includes construction of third and fourth Mistral-class assault landing ships for Russian defense ministry », he said. « It is planned to sign the contract in 2012. We consider the contract will be concluded, otherwise it would be no point to purchase technology », Trotsenko added.
According to the head of USC, first and second Mistral-class helicopter carriers will be half-built in St. Petersburg and then sent to France for assemblage. « Third and fourth Mistrals will be fully constructed in Russia », reports ITAR-TASS citing Trotsenko.
14.10.2011